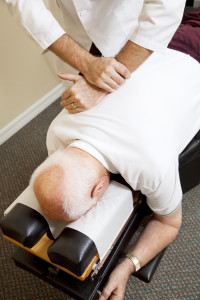 Starting your Chiropractic care program is easy.  The first step is to fill out our patient intake forms.  The next step is to call our office at 256-350-1166 to schedule an initial consultation with Dr. Maxwell.
On your first visit, you will sit down with Dr. Maxwell and discuss  your current health complaints and pain issues.  He'll ask how long you've had them and how they affect your everyday physical activities.  You'll also go over some family health history and certain aspects of lifestyle that affect your well-being.
Following this conversation is a physical assessment of your spine.  Dr. Maxwell will examine your posture, check your range of motion for limitations, evaluate your spinal alignment and run some orthopedic tests, which are exercises that bend the body in certain positions to check for pain response.  This physical evaluation will help paint the picture of your overall spine health and allow Dr. Maxwell to develop a treatment plan.
"If I can help you I will tell you; if I cannot I will tell you."
After the initial consultation, a follow-up appointment is scheduled to review the results of your exam and x-rays.  This report will answer five fundamental questions about the structure of your Chiropractic program.
What are my primary health concerns?
Can chiropractic care help me?
What will be done during my chiropractic treatment?
How long will therapy take?
How much will it cost?
Treatments can begin immediately after the first visit and may continue directly after your follow-up appointment.  If you have further questions about how to get started please call us at 350-1166 or fill out our contact form here.